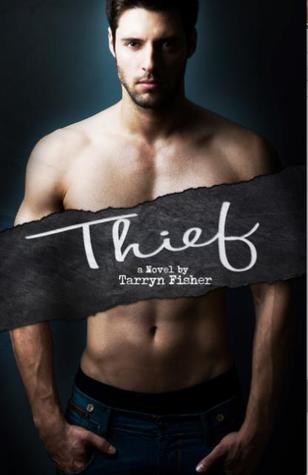 Title: Thief
Author: Tarryn Fisher
Series: Book Three in the Love Me With Lies Trilogy
Published: July 21, 2013
Source: Purchased
Genre: Contemporary
My Rating: 5 Stars!
Book Description:
Note to Self
Love is patient; love is kind.
Love doesn't boast or brag.
There's no arrogance in love;
it's never rude, crude, or indecent-it's not self absorbed.
Love isn't easily upset.
Love doesn't tally wrongs.
Love trusts, hopes, and endures no matter what.
Love will never become obsolete.
I'll fight for her.
Thief
Caleb Drake never got over his first love. Not when he got married. Not when she got married. When life suddenly comes full circle Caleb must decide how how far he is willing to go to get the aloof and alluring Olivia Kaspen back. But for every action in life there is a consequence, and soon Caleb finds out that sometimes love comes at an unbearably high price.
This series. This. Freaking. Series.
I think it just about killed me. I read it all in two days. I consumed it heart and soul.
It broke me, put me back together again. It made me think. It made me sad, angry, frustrated, happy, and hopeful.
I think it just about brought out every emotion known to man.
I love Olivia, I love Caleb and their story is a tragic one. A crazy obsessive one but also, a very beautiful one.
I was eager to get to the end. To have it all come together and to make sense and most of all for it to be a happy one but I have to say, I had my doubts that these two, star crossed lovers, were ever going to get together and stay that way.
I was prepared to be crushed, numerous times even because if there is one thing I know about Ms. Fisher's writing, it is that you should always expect the unexpected.
I absolutely love that with each book we got a different perspective, a different point of view and I was eager to get Caleb's. To see it all through his eyes, Leah, Noah, and most of all Olivia.
This book, this whole series really, was emotionally draining because I became so very invested in Caleb and Olivia's story and I will definitely need to read something light hearted or funny after this, but at the same time, I don't regret it because it was worth it. It was so worth it to take this journey with them and to learn their story.
Tarryn is an amazing writer and story teller and I will be reading everything she writes in the future and be eagerly awaiting it.