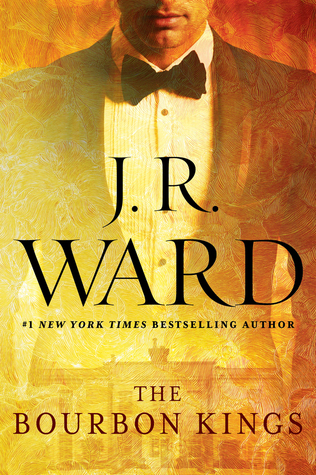 Title: The Bourbon Kings
Author: J.R. Ward
Series: Book One in the Bourbon Kings Series
Published By: NAL (July 28, 2015)
Source: ARC Copy Provided by the Publisher
(in exchange for an honest review)
Genre: Drama/Family Saga
My Rating: 4 Stars!
Book Description:
For generations, the Bradford family has worn the mantle of kings of the bourbon capital of the world. Their sustained wealth has afforded them prestige and privilege—as well as a hard-won division of class on their sprawling estate, Easterly. Upstairs, a dynasty that by all appearances plays by the rules of good fortune and good taste. Downstairs, the staff who work tirelessly to maintain the impeccable Bradford facade. And never the twain shall meet.
For Lizzie King, Easterly's head gardener, crossing that divide nearly ruined her life. Falling in love with Tulane, the prodigal son of the bourbon dynasty, was nothing that she intended or wanted—and their bitter breakup only served to prove her instincts were right. Now, after two years of staying away, Tulane is finally coming home again, and he is bringing the past with him. No one will be left unmarked: not Tulane's beautiful and ruthless wife; not his older brother, whose bitterness and bad blood know no bounds; and especially not the ironfisted Bradford patriarch, a man with few morals, fewer scruples, and many, many terrible secrets.
As family tensions—professional and intimately private—ignite, Easterly and all its inhabitants are thrown into the grips of an irrevocable transformation, and only the cunning will survive.
My very first J.R. Ward book was nothing short of spectacular. Something full of deceit, intrigue, lies, love, abuse, mystery, danger, backstabbing, and heavy on the family and personal drama.
In short, it was everything you should expect form a soap opera in book form. It was truly addicting and hard to put down.
Is it possible to truly feel sorry for the troubles of the filthy rich and spoiled family that are the Bradfords? When they have a father like William, yes, it is indeed not only plausible but is indisputably bound to happen.
With a mixed blend of struggles bouncing from one family member to the next this book really kept a fast pace and made it impossible to put down. Never knowing who to feel more sorry for or have compassion or hatred towards, this book is one that will keep you on your toes as much as it will turning the pages.
Well written and executed the cliffhanger ending will leave you begging for more.
*All thoughts and opinions are my own and were not influenced by the author or publisher. I was not compensated for this review.*