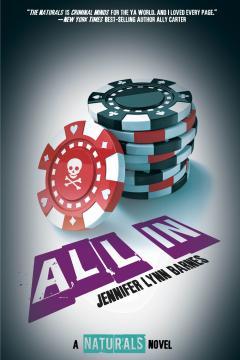 Title: All In
Author: Jennifer Lynn Barnes
Series: Book Three in the Naturals Series
Published By: Disney-Hyperion (November 3, 2015)
Source: Purchased
Genre: YA Mystery
My Rating: 4 Stars
Book Description:
Three casinos. Three bodies. Three days.
After a string of brutal murders in Las Vegas, Cassie Hobbes and the Naturals are called in to investigate. But even with the team's unique profiling talents, these murders seem baffling: unlike many serial killers, this one uses different methods every time. All of the victims were killed in public, yet the killer does not show up on any tape. And each victim has a string of numbers tattooed on their wrist. Hidden in the numbers is a code—and the closer the Naturals come to unraveling the mystery, the more perilous the case becomes.
Meanwhile, Cassie is dealing with an equally dangerous and much more painful mystery. For the first time in years, there's been a break in her mother's case. As personal issues and tensions between the team mount, Cassie and the Naturals will be faced with impossible odds—and impossible choices.
I love Barnes's books simply for the fun, unique take on things that only she seems to be able to offer. Add in plots that are both well designed, executed, and original and you are always in for a treat.
The Naturals series had me hooked from the very first book and seems to be getting better as it goes. A fun series about young teenage profilers that it is hard to resist.
I love this rag tag group of people that not only over time have learned to be friends but a family too.
Each with unique abilities, traits, personalities, and things to offer, this series really had become a favorite of mine. It is hard to resist all the characters and how they interact with one another and how dang smart and attention detailed they really are.
Add in the new twists to the plot that were reveled all set in the fast paced life of Las Vegas Nevada and I 'm salivating to get my hands on the next book. I won't go into any more detail but I will say that if you are looking for something fun, mysterious and a lot like Criminal Minds for teens, this in the series for you.