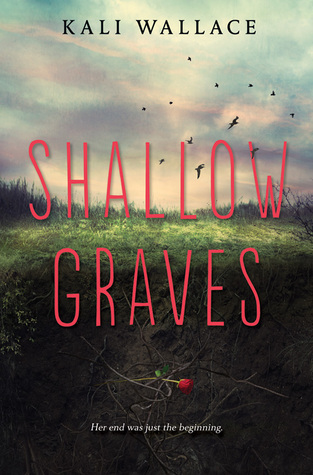 Title: Shallow Graves
Author: Kali Wallace
Series: Stand Alone
Published By: Katherine Tegen Books (January 26, 2016)
Source: Publisher
(in exchange for an honest review)
Genre: YA Fantasy
My Rating: 3 Stars
Book Description:
For fans of Holly Black and Nova Ren Suma, a gripping, hauntingly atmospheric novel about murder, revenge, and a world where monsters—human and otherwise—lurk at the fringes.
When seventeen-year-old Breezy Lin wakes up in a shallow grave one year after her death, she doesn't remember who killed her or why. All she knows is that she's somehow conscious—and not only that, she's able to sense who around her is hiding a murderous past. In life, Breezy was always drawn to the elegance of the universe and the mystery of the stars. Now she must set out to find answers and discover what is to become of her in the gritty, dangerous world to which she now belongs—where killers hide in plain sight and a sinister cult is hunting for strange creatures like her. What she finds is at once empowering, redemptive, and dangerous.
Shallow Graves was a read that I was really looking forward to sinking my teeth into. It sounded original, fun, and I loved the paranormal aspect the synopsis hinted at and couldn't wait to see if it was anywhere as good as it promised to be.
I wouldn't say I was disappointed with this read but I will say that it wasn't at all what I was expecting it to be.
In fact this was definitely a unique read in some ways and just simply strange in others. I never quite felt like I connected to the characters nor the storyline yet it was weirdly addicting.
The plot was a bit of a mess and things were explained but never in detail or even that well and yet I was still compelled to read on to see what would pop up next in the story and because most of all, I was truly hoping everything would make sense by the ending.
I wish I could say it all did but the fact is, it didn't and yet, I wasn't bothered too much by that, for some reason not having it all laid out, all out in the open, seemed to fit with the general feel of the story and somehow in a very unusual way, worked.
I honestly can't say if I liked this read or not but I was a bit fascinated with it and like I mentioned, it was strangely addicting so I have to give that to the author if nothing else. More than anything this wasn't the read I was expecting but again, that isn't always a bad thing in this genre.
*All thoughts and opinions are my own and were not influenced by the author or publisher. I was not compensated for this review.*