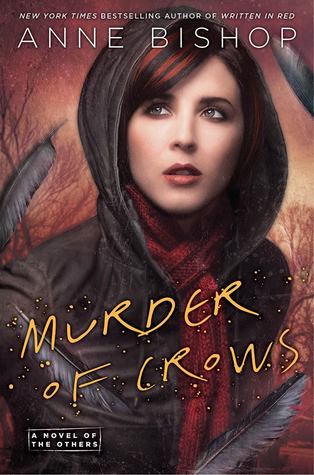 Title: Murder of Crows
Author: Anne Bishop
Series: Book Two in the Others Series
Published By: Penguin (March 4, 2014)
Source: Purchased
Genre: Adult Dystopian/Fantasy
My Rating: 5 Stars!
Book Description:
After winning the trust of the terra indigene residing in the Lakeside Courtyard, Meg Corbyn has had trouble figuring out what it means to live among them. As a human, Meg should be barely tolerated prey, but her abilities as a cassandra sangue make her something more.
The appearance of two addictive drugs has sparked violence between the humans and the Others, resulting in the murders of both species in nearby cities. So when Meg has a dream about blood and black feathers in the snow, Simon Wolfgard—Lakeside's shape-shifting leader—wonders whether their blood prophet dreamed of a past attack or of a future threat.
As the urge to speak prophecies strikes Meg more frequently, trouble finds its way inside the Courtyard. Now the Others and the handful of humans residing there must work together to stop the man bent on reclaiming their blood prophet—and stop the danger that threatens to destroy them all.
I thoroughly enjoyed the first book in the series and the different take on The Others and all the supernatural creatures we have often heard about and loved.
Bishop's take on where these beings came from and their role in the world she created was imaginative and quite frankly, ingenious.
It didn't take me long to fall in love with the whole lot of them and want more. So it was without hesitation that I dived right into A Murder of Crows and it reminded me all over again, why this series truly is something special.
Yes this series is long and sometimes a bit slow going but oh boy, once it gets going it is so addictive and you can't help but be caught up in it all and crave more by the time you are done. I can truly see this series becoming a fast favorite.