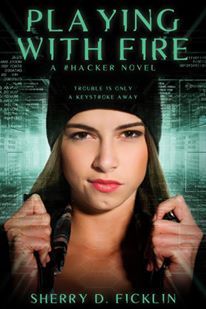 Title: Playing With Fire
Author: Sherry D. Ficklin
Series: Book One in the #Hacker Series
Published By: Clean Teen Publishing (October 27, 2015)
Source: Purchased
(Free on Amazon right now!)
Genre: YA Mystery
My Rating: 4 Stars
Book Description:
One brilliant young hacker.
One experimental government aircraft.
One chance to keep it all from going up in flames.
Still recovering from her troubled past, Farris is no stranger to change. But when the military transfers her father across the country to an experimental aircraft squadron, settling in to a new life is the least of her problems. As a series of apparent computer glitches threaten the security of the fleet and the blame falls on her father, she decides to put her computer skills to use digging up the truth. Soon she's drawn into the perilous world of a hacker who is determined to ground the fleet—at any cost.
When all signs lead to someone close to her as the mastermind, Farris will have to burn more than bridges to get to the truth. She will have to risk her fragile new life to uncover the identity of the cyber criminal before they can escalate from harmless tampering… to all out murder.
I started this wanting something full of mystery, fun, and just plain and simple, something different. I got all those things with this read and I'm happy to report, enjoyed this so much more than I was expecting too.
This really was well written and held so true to what I feel someone like Farris should be with the way she grew up and the challenges and struggles that she has had in her life. Not only that but can I just say, yay for a parent being very prominent in the YA genre for a change? It was so nice to see Farris and her dad not only having real conversations, but that he played such a huge role in her life, even after the death of her mother where in some many YA reads, the parent shuts down.
It was so darn refreshing and may have been my most favorite aspect of this whole read, besides the fun characters, fast paced plot and the mystery that kept me turning the pages, not to mention the swoon worthy love interest, this was everything I was hoping it would be in a fun weekend stay at home getaway.