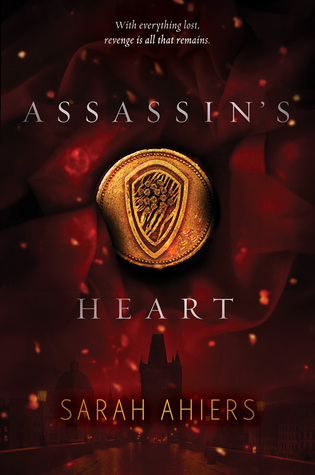 Title: Assassin's Heart
Author: Sarah Ahiers
Series: Stand Alone
Published By: Harper Teen (February 2, 2016)
Source: ARC Copy Provided by the Publisher
(in exchange for an honest review)
Genre: YA Fantasy
My Rating: 4 Stars!
Book Description:
In the kingdom of Lovero, nine rival Families of assassins lawfully kill people for a price. As a highly skilled member of one of these powerful clans, seventeen-year-old Lea Saldana has always trusted in the strength of her Family. Until she awakens to find them murdered and her home in flames. The Da Vias, the Saldanas' biggest enemy, must be responsible—and Lea should have seen it coming. But her secret relationship with the Da Vias' son, Val, has clouded her otherwise killer instinct—and given the Da Vias more reason than ever to take her Family down.
Racked with guilt and shattered over Val's probable betrayal, Lea sets out to even the score, with her heart set on retaliation and only one thought clear in her mind: make the Da Vias pay.
With shades of The Godfather and Romeo and Juliet, this richly imagined fantasy from debut author Sarah Ahiers is a story of love, lies, and the ultimate vengeance.
I'm a sucker for a good star crossed lovers romance. Add in a family filled with deadly assassins all fighting to be top dog and you have one read that I just couldn't resist.
And while this wasn't quite the star crossed Romeo and Juliet lover's story the synopsis promised, this was the assassin story that I was hoping it would be and I found myself caught up in it before I even knew it.
This was such a fun read. It wasn't anything too special or mind blowing but it was well written and just plain entertaining and sometimes, that it is all that matters.
From the medieval Romeo and Juliet feel, to the adventure and action around every bend this novel was fast paced, quick, and flowed together nicely and best of all was a stand alone that left me feeling quite satisfied when it was all over.
It truly was something spunky and fun in the genre and I'm so glad I took a chance and read it and am truly looking forward to whatever the author puts out next.
*All thoughts and opinions are my own and were not influenced by the author or publisher. I was not compensated for this review.*