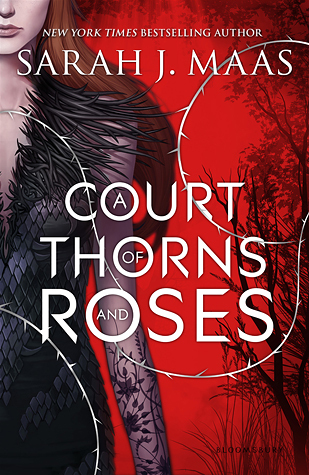 Title: A Court of Thorns and Roses
Author: Sarah J. Maas
Series: Book One in the A Court of Thorns and Roses Series
Published By: Bloomsbury Children's (May 5, 2015)
Source: Borrowed
Genre: NA Fantasy
My Rating: 4.5 Stars!
Book Description:
A thrilling, seductive new series from New York Times bestselling author Sarah J. Maas, blending Beauty and the Beast with faerie lore.
When nineteen-year-old huntress Feyre kills a wolf in the woods, a beast-like creature arrives to demand retribution for it. Dragged to a treacherous magical land she only knows about from legends, Feyre discovers that her captor is not an animal, but Tamlin—one of the lethal, immortal faeries who once ruled their world.
As she dwells on his estate, her feelings for Tamlin transform from icy hostility into a fiery passion that burns through every lie and warning she's been told about the beautiful, dangerous world of the Fae. But an ancient, wicked shadow grows over the faerie lands, and Feyre must find a way to stop it... or doom Tamlin—and his world—forever.
Even though I absolutely adore Maas's writing, I couldn't help but step into this read being a little leery and cautious. After reading so many conflicting ratings and reviews for this, I wasn't quite sure what to expect but with the love of Maas in my heart and not being able to resist a Beauty and the Beast retelling, I went into this wholeheartedly expecting to fall in love with it.
And I did, I so did. Can I say that retellings with a twist are fast becoming my very favorite kinds?
There were so many aspects of this that I just adored and the myth and lore were a big part of it. I admit, I have never been big on fairies of any kind with all their trickery, nastiness, and fighting but this was done in the style that only Maas can create and became truly captivating.
I stayed up way too late reading this and I loved every single minute of it. Tamlin was the very best part of this. He had a quiet subtly to his swoon worthiness that I just adored and it was hard not to like him, even in his grumpiness. The same can actually be said about many characters in this series and as the story delve deeper into the fairy lore, I couldn't help but be even more curious about a ton of the side characters, their secrets, flaws, and maybe even goodness lurking under all the deception and lies.
I am so excited about this new series and glad that I jumped in when I did with book twos release just right around the corner.