Waiting on Wednesday is a weekly meme hosted by Jill at Breaking the Spine. It is a chance to share those new releases were are super anxious to get our hands on and read.
Believe it or not, I choose this weeks pick because of the author, cover or synopsis be danged, although, thankfully, I like them both too. ;) She better not let me down though!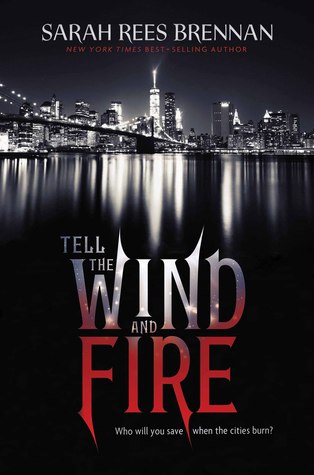 Book Description:
Tell the Wind & Fire is about a young girl called Lucie who lives in a New York very different from the New York we know: the city is torn between two very different kinds of magic, and Lucie's own family was torn apart years ago by that conflict. Lucie wears magic rings and carries a burden of guilt she can't share with anyone.
The light in her life is her sweetheart boyfriend Ethan, but it turns out Ethan has a secret too: a soulless doppelganger created by dark magic, who has to conceal the face identical to Ethan's with a hood fastened by a collar nobody but a Light magician with magical rings can take off… and who introduces himself to both of them by, for reasons nobody can understand, saving Ethan's life…