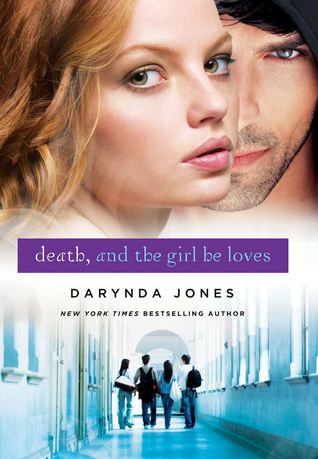 T
itle: Death, and the Girl He Loves
Author: Darynda Jones
Series: Book Three in the Darklight Trilogy
Published By: St. Martin's Press (October 8, 2013)
Source: Purchased
Genre: YA Fantasy
My Rating: 4 Stars!
Book Description:
The fate of the world is not something a girl wants on her shoulders, and that is especially true for Lorelei McAlister. Unfortunately for her, that is exactly where the world's fate has decided to take up residence. Lorelei has seen firsthand the horrors that lie beneath our everyday world. And those horrors are getting her friends killed. Because of this, she agrees to leave the sanctity of her hometown and is sent to a different world entirely. A boarding school. But even here she is being watched. Someone knows what she is. What she carries inside her soul. And on top of that she's seeing visions. This is nothing new for Lorelei. But these visions are something more: death, destruction, and the end of the world. Lorelei must face the fact that there are people who want her dead, and no matter where she goes, no matter how far she runs, the lives of her friends and family are in mortal peril. Lucky for her, her friends and family include the handsome Angel of Death, a fiercely protective half-angel, and a ragtag group of loyal supporters who aren't afraid to get a little dirty in the name of fighting pure evil.
I was so excited to get to this last installment in the Darklight trilogy and I'm happy to say that it was everything that I was hoping it would be. I can't believe it took me so very long to finish it. So without further ado, here are my top five reasons you should pick up this series and read it:
1. You love a good mystery mixed in with your fantasy and all things supernatural.
2. Danger is a hot sexy guy capable of melting your panties off. Think Reyes (Charley fans) but in teenager and PG form.
3. Amazing friends that you will love every bit as much as the main character.
4. Jones' amazing writing. Let's face it, fans of her's know this woman can write!
5. An ending you can be satisfied with and that holds true to the rest of the series.