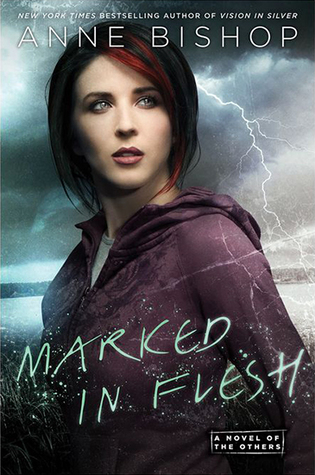 Title: Marked in Flesh
Author: Anne Bishop
Series: Book Four in the Others Series
Published By: Penguin/ROC (March 8, 2016)
Source: ARC Copy Provided by the Publisher
(in exchange for an honest review)
Genre: Fantasy
My Rating: 4.5 Stars!
Book Description:
For centuries, the Others and humans have lived side by side in uneasy peace. But when humankind oversteps its bounds, the Others will have to decide how much humanity they're willing to tolerate—both within themselves and within their community...
Since the Others allied themselves with the cassandra sangue, the fragile yet powerful human blood prophets who were being exploited by their own kind, the delicate dynamic between humans and Others changed. Some, like Simon Wolfgard, wolf shifter and leader of the Lakeside Courtyard, and blood prophet Meg Corbyn, see the new, closer companionship as beneficial—both personally and practically.
But not everyone is convinced. A group of radical humans is seeking to usurp land through a series of violent attacks on the Others. What they don't realize is that there are older and more dangerous forces than shifters and vampires protecting the land that belongs to the Others—and those forces are willing to do whatever is necessary to protect what is theirs…
This series continues to be one of a kind and one of my very most favorite.
With the world that is like ours in some many ways and so unlike in others, it is easy to imagine and believe. With a cast full of the strange, beasts and sups alike, this series truly stands out.
Told in multiple point of views that only Bishop can pull off without being too overwhelming or tedious, this series is one that you never want to end.
With a slow burning romance full of new experiences, the dangers that are always lurking and of course the Others in all their unique glory have truly wedged their way into my heart and planted themselves there forever.
And if the Others haven't captured your heart then Meg and her human pack are sure to do you in.
This series is spectacular. It stands out, shines, and holds it's own against any other I have read in its genre.
With beautiful fluid writing, Bishop goes above and beyond with her tale and her characters. She captures you, captivates you and always leaves you wanting more.
*All thoughts and opinions are my own and were not influenced by the author or publisher. I was not compensated for this review.*