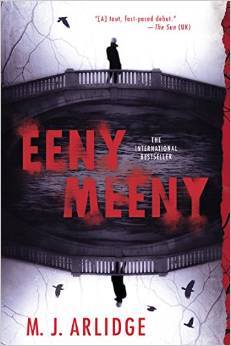 Title: Eeny Meeny
Author: M.J. Arlidge
Series: Book One in the Helen Grace Series
Published By: Berkley & NAL (June 2, 2015)
Source: ARC Copy Provided by the Publisher (in exchange for an honest review)
Genre: Mystery/Thriller
Book Description:
The international bestseller that "grabs the reader by the throat" (Crime Time).
First in the new series featuring Detective Inspector Helen Grace.
Two people are abducted, imprisoned, and left with a gun. As hunger and thirst set in, only one walks away alive.
It's a game more twisted than any Detective Inspector Helen Grace has ever seen. If she hadn't spoken with the shattered survivors herself, she almost wouldn't believe them.
Helen is familiar with the dark sides of human nature, including her own, but this case—with its seemingly random victims—has her baffled. But as more people go missing, nothing will be more terrifying than when it all starts making sense....
About the Author:
M.J. Arlidge has worked in television for the last 15 years, specialising in high end drama production. Arlidge has produced a number of prime-time crime serials for ITV In the last five years, and is currently working on a major adaptation of The Last of the Mohicans for the BBC.
Eeny Meeny is a book that will quickly wrap you up in the story with both fascination and horror.
A heart pounding, heart stopping thriller that does not have a happy ending. A story that quickly reminds you of the horrors in the world and the very fact that not all endings, are a happy one.
The book was quite the read and even now, I'm not quite sure how I felt about it. It was very fast paced but so much so that at times I felt lost. Like I had missed part of the storyline and was constantly stumbling to catch up and other times the story seemed to drag on and I wasn't sure what the purpose was for it.
With disturbing content, language, and horrors around every bend, this definitely is not for the faint of heart. I wasn't sure half the time if this would be the story for me and several times had to stop and put it aside for awhile.
Overall I don't think this was necessarily the read for me although I think many fans of the genre will love it. In fact, I think they will be swept away with a hero that has a disturbing and dark past almost as much so as the villain and where happily ever afters are not part of the story, those that like to be on the edge of their seat never knowing what will come next and constantly looking over their shoulders hoping someone isn't watching and waiting for them too, Arlidge truly did create something unlike anything I have read before.