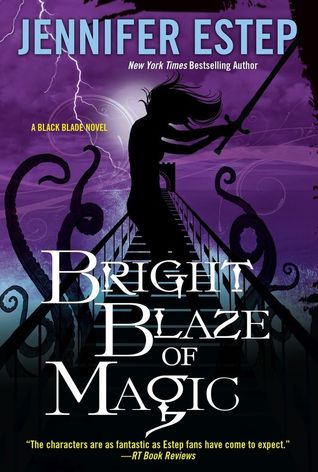 T
itle: Bright Blaze of Magic
Author: Jennifer Estep
Series: Book Three in the Black Blade Trilogy
Published By: Kensington (April 26, 2016)
Source: ARC Copy Provided by the Publisher
(in exchange for an honest review)
Genre: YA Fantasy
My Rating: 4.5 Stars!
Book Description:
Bad Things Always Come In Threes…
As a thief, I'm good at three things: hiding in the shadows, getting in and out unseen, and uncovering secrets. I put these skills to work for the Sinclair Family, one of the magical mobs that run the tourist town of Cloudburst Falls.
Everyone knows Victor Draconi wants to take over all the other Families--and kill every last Sinclair. What they don't know is that I'm on to him, and no way will I let the man who murdered my mom get away with hurting all the other people I care about. Especially when I've got places to break into, stuff to steal, and Devon Sinclair fighting right by my side…
Is it ever easy saying goodbye to a series, to its characters that you have come to know, love, and even call friends?
No matter how exciting it is to get to that last book, to see it all come together, and come to an end, it is always bittersweet as well.
This last installment did not disappoint. I completely loved it and it stuck to the feel of the other books, both plot wise and character wise. And I have to give a big woo hoo for the Pork Pit shout out in it, I totally loved it and it made me grin like an idiot.
Estep knows how to write and how to end her series. I never worry about what will happen because I just know it will be all for the best and do the whole series justice.
I have absolutely adored this series from the first book and am so happy with the way it all came together for Lila, Devon, Felix and the lot of them. This was such a fun series and as sad as I am that it is all over, I'm also left very satisfied with it too and really, you can't ask for more than that.
*All thoughts and opinions are my own and were not influenced by the author or publisher. I was not compensated for this review.*