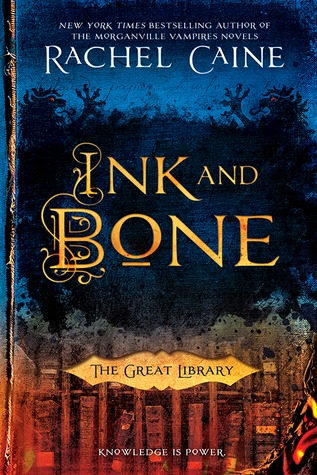 Title: Ink and Bone
Author: Rachel Caine
Series: Book One in the Great Library Series
Published By: NAL (July 7, 2015)
Source: Borrowed
Genre: YA Fantasy
My Rating: 5 Stars!
Book Description:
In an exhilarating new series, New York Times bestselling author Rachel Caine rewrites history, creating a dangerous world where the Great Library of Alexandria has survived the test of time.…
Ruthless and supremely powerful, the Great Library is now a presence in every major city, governing the flow of knowledge to the masses. Alchemy allows the Library to deliver the content of the greatest works of history instantly—but the personal ownership of books is expressly forbidden.
Jess Brightwell believes in the value of the Library, but the majority of his knowledge comes from illegal books obtained by his family, who are involved in the thriving black market. Jess has been sent to be his family's spy, but his loyalties are tested in the final months of his training to enter the Library's service.
When his friend inadvertently commits heresy by creating a device that could change the world, Jess discovers that those who control the Great Library believe that knowledge is more valuable than any human life—and soon both heretics and books will burn…
Rachel Caine never ceases to amaze with the vivid realistic and sometimes horrific worlds that she creates.
Ink and Bone is one such world. Terrifying and imaginative, dangerous, and astonishing, the futuristic world that Caine came up with is not only beautiful descriptive but every bit as imaginative and believable as I have come to expect from her writing.
Even with a slightly slow start, it didn't take me long to become immersed in the story and into the very heart of the city and library itself.
I love the very futuristic but yet archaic world that Caine created. Like I said, it was both so believable and fantastic that is was hard not to get swept up in the story and very diverse cast of characters.
I devoured this book, way more than I was expecting but right up with my hopes that it would be everything all the reviews I read said it would be. I was no in the least bit disappointed.
So many emotions while reading this, especially towards the end and while this didn't necessarily end on a cliffhanger, it did leave the reader wanting more and eager for the next book. I will be on edge waiting for it. I can't wait to jump back into this world.