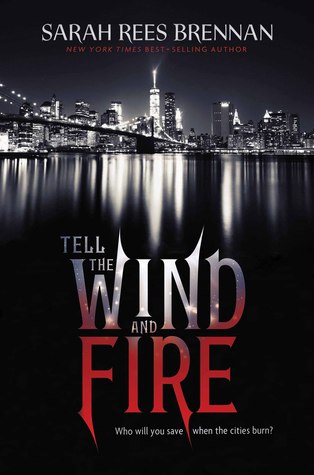 Title: Tell the Wind and Fire
Author: Sarah Rees Brennan
Series: Stand Alone
Published By: Clarion Books (April 5, 2016)
Source: ARC Copy Provided by the Publisher
(in exchange for an honest review)
Genre: YA Fantasy
My Rating: 4 Stars
Book Description:
In a city divided between opulent luxury in the Light and fierce privations in the Dark, a determined young woman survives by guarding her secrets.
Lucie Manette was born in the Dark half of the city, but careful manipulations won her a home in the Light, celebrity status, and a rich, loving boyfriend. Now she just wants to keep her head down, but her boyfriend has a dark secret of his own—one involving an apparent stranger who is destitute and despised. Lucie alone knows the young men's deadly connection, and even as the knowledge leads her to make a grave mistake, she can trust no one with the truth.
Blood and secrets alike spill out when revolution erupts. With both halves of the city burning, and mercy nowhere to be found, can Lucie save either boy—or herself?
This novel is almost quiet in its intensity, tackling tough subject matters that still sadly plaque our culture and world today.
A very subtle nonthreatening look into diversity and prejudice that doesn't immediately stand out and grab you but rather over time, works its way into your sub-conscience and finally, after filling it out, shining through with clarity, understanding, and knowledge.
This was a fun and interesting world with subtle messages woven throughout and I couldn't of been happier with the whole light and dark, good versus evil feel to it.
It was entertaining, interesting, and most importantly, fun. I definitely recommend this to anyone looking for something that is different with wonderful and heartfelt messages throughout without those messages being overbearing or too heavy.
*All thoughts and opinions are my own and were not influenced by the author or publisher. I was not compensated for this review.*