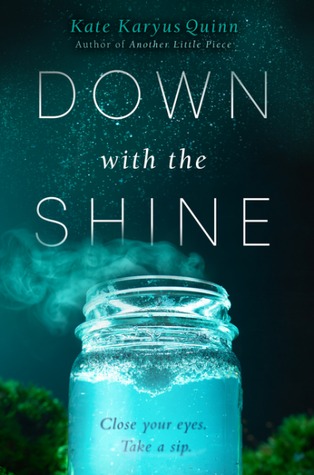 T
itle: Down With the Shine
Author: Kate Karyus Quinn
Series: Stand Alone
Published By: Harper Teen (April 26, 2016)
Source: ARC Copy Provided by the Publisher
(in exchange for an honest review)
Genre: YA Fantasy
My Rating: 4 Stars!
Book Description:
There's a reason they say "be careful what you wish for." Just ask the girl who wished to be thinner and ended up smaller than Thumbelina, or the boy who asked for "balls of steel" and got them-literally. And never wish for your party to go on forever. Not unless you want your guests to be struck down by debilitating pain if they try to leave.
These are things Lennie only learns when it's too late-after she brings some of her uncles' moonshine to a party and toasts to dozens of wishes, including a big wish of her own: to bring back her best friend, Dylan, who was abducted and murdered six months ago.
Lennie didn't mean to cause so much chaos. She always thought her uncles' moonshine toast was just a tradition. And when they talked about carrying on their "important family legacy," she thought they meant good old-fashioned bootlegging.
As it turns out, they meant granting wishes. And Lennie has just granted more in one night than her uncles would grant in a year.
Now she has to find a way to undo the damage. But once granted, a wish can't be unmade...
I have read a couple of Quinn's other books and really enjoyed them so for the most part I knew what to expect from her writing. How all her stories are different, fun, unique and even sometimes weird in the best ways but I have to say, her latest book surprised me with just how much fun it was and how utterly ridiculous.
It is silly and nonsensical at times, and just down right entertaining in all it's messed up wishing glory but most of all, it was hard to put down because it was so entertaining and I never knew what to expect next.
Imaginative, compelling, humorous, and downright a good time, Down With the Shine is one that will knock you off your feet and leave you with a big old grin on your face when you are done.
*All thoughts and opinions are my own and were not influenced by the author or publisher. I was not compensated for this review.*