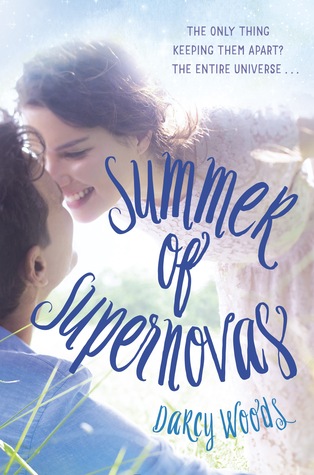 Title: Summer of Supernovas
Author: Darcy Woods
Series: Stand Alone
Published By: Random House (May 10, 2016)
Source: ARC Copy Provided by the Publisher
(in exchange for an honest review)
Genre:

YA Contemporary
My Rating: 4 Stars!
Book Description:
As the daughter of an expert astrologer, Wilamena Carlisle knows that the truth lies within the stars. So when she discovers a rare planetary alignment, she is forced to tackle her worst astrological fear – The Fifth House of Relationships and Love. But Wil must decide whether a cosmically doomed love is worth rejecting her mother's legacy, when she falls for a sensitive guitar player hailing from the wrong side of the chart.
Debut author Darcy Woods explores love in all its complexities and how to best honor the loved ones who have passed before us, in a novel packed with both humor and heart.
I read very little anymore from this genre so when I do, I want it to be something adorable, something fun, and most of all, something that will stand out and be noticed.
Summer of the Supernovas is so that read.
Funny, sweet, fast paced, and packed full of awesome amazing characters this is a love story that is both realistic and sweet with a guy that every girl will want and will definitely make many peoples top ten list this year.
Woods hit all the right buttons with this one. The ones that made you laugh, smile, get teary eyed, and most of all, the ones that will leave you eagerly and quickly flipping pages because you just can't get enough of Wil and Grant and their friends. Heck, even Gram was pretty fabulous.
A fun story perfect for this time of year. One that will leave you with a big smile of your face and a warm happy feeling in your heart.
*All thoughts and opinions are my own and were not influenced by the author or publisher. I was not compensated for this review.*