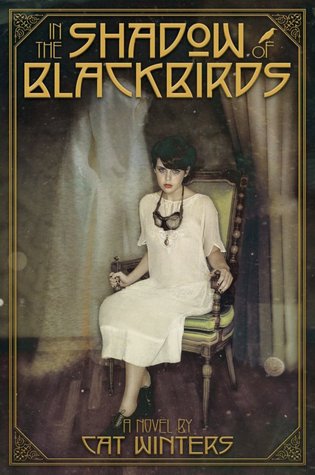 Title: In the Shadow of Blackbirds
Author: Cat Winters
Series: Stand Alone
Published By: Amulet (April 2, 2013)
Source: Purchased
Genre: YA Historical/Paranormal
My Rating: 4 Stars
Book Description:
In 1918, the world seems on the verge of apocalypse. Americans roam the streets in gauze masks to ward off the deadly Spanish influenza, and the government ships young men to the front lines of a brutal war, creating an atmosphere of fear and confusion. Sixteen-year-old Mary Shelley Black watches as desperate mourners flock to séances and spirit photographers for comfort, but she herself has never believed in ghosts. During her bleakest moment, however, she's forced to rethink her entire way of looking at life and death, for her first love—a boy who died in battle—returns in spirit form. But what does he want from her?
Featuring haunting archival early-twentieth-century photographs, this is a tense, romantic story set in a past that is eerily like our own time.
Cat Winter's Never ceases to pull me right into the very heart of her stories with their rich historical detail and their feisty heroines who are anything but the norm.
Always set in a time of our world that was both fascinating in it's advances and prehistoric in it's ideas and technology, and every bit as horrifying as it is captivating, her debut novel In the Shadow of Blackbirds was every bit as good as her latest releases.
Having read all of her books out of order, I can say that I truly haven't noticed the difference between her first or her third, they are all well written, well plotted out and well done.
This was such a good read. The right amount of mystery, intrigue, and just a hint of romance (set in the past) that left me on my toes and turning the pages.
With a paranormal aspect that was every bit as good as the horrific historic, this really was a fabulous read good for any time of the year.