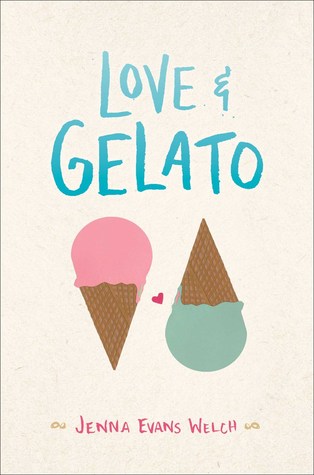 Title: Love & Gelato
Author: Jenna Evans Welch
Series: Stand Alone
Published By: Simon Pulse (May 3, 2016)
Source: ARC Copy Provided by the Publisher
(in exchange for an honest review)
Genre: YA Contemporary
My Rating: 4 Stars!
Book Description:
A summer in Italy turns into a road trip across Tuscany in this sweeping debut novel filled with romance, mystery, and adventure.
Lina is spending the summer in Tuscany, but she isn't in the mood for Italy's famous sunshine and fairy-tale landscape. She's only there because it was her mother's dying wish that she get to know her father. But what kind of father isn't around for sixteen years? All Lina wants to do is get back home.
But then Lina is given a journal that her mom had kept when she lived in Italy. Suddenly Lina's uncovering a magical world of secret romances, art, and hidden bakeries. A world that inspires Lina, along with the ever-so-charming Ren, to follow in her mother's footsteps and unearth a secret that has been kept from Lina for far too long. It's a secret that will change everything she knew about her mother, her father—and even herself.
People come to Italy for love and gelato, someone tells her, but sometimes they discover much more.
There is something to say about an author that can capture of the emotions of loss and love. Of despair, heartache and of hope and life that just appeals and calls to me.
When I saw Love & Gelato I just knew that I needed to open it up and see what it had to offer.
With a main character that is almost quiet in her grief and a supporting parental role that almost stole the whole show, this was set in a time and place that was every bit as appealing as the storyline.
With a few slow parts that were at times drawn out but with a main character that made them all worth it in the end, this was a great coming of age story about finding your way after losing someone close to you and discovering new things, places, and people to love.
This was an endearing read that really is worth the time and lovers of the genre in general will adore.
*All thoughts and opinions are my own and were not influenced by the author or publisher. I was not compensated for this review.*