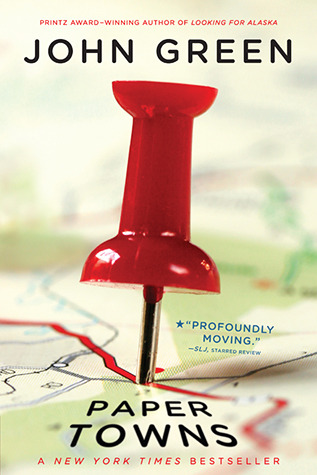 Title: Paper Towns
Author: John Green
Series: Stand Alone
Published By: Speak (September 22, 2009)
Source: Borrowed
Genre: YA Contemporary
My Rating: 3 Stars
Book Description:
Who is the real Margo?
Quentin Jacobsen has spent a lifetime loving the magnificently adventurous Margo Roth Spiegelman from afar. So when she cracks open a window and climbs into his life—dressed like a ninja and summoning him for an ingenious campaign of revenge—he follows. After their all-nighter ends, and a new day breaks, Q arrives at school to discover that Margo, always an enigma, has now become a mystery. But Q soon learns that there are clues—and they're for him. Urged down a disconnected path, the closer he gets, the less Q sees the girl he thought he knew...
I'm going to be honest and say that I had really high expectations for this read and because of that I might have been slightly biased when I started reading this. I loved The Fault in Our Stars and I guess, because of that love, I sort of expected all Green's reads, to live up to my love for it.
That was probably my first and second mistake. I should have known better but, live and learn right?
Not to say I didn't like this read, because I did. In fact, it had a lot of really good messages, quotes, and bonds of friendship that left me smiling many times while reading. But it also seriously lagged in so many places that I found myself wanting to skim through them rather than read them. This read would pick up only to tapper off again and along with the tapering of action in the story, my attention also tapered. I found myself pushing through to get to the end and then the ending was...flat. A let down of sorts
I don't know. Maybe it was just me reading this at the wrong time in the wrong frame of mind or maybe it was my high expectations when I picked it up, either way, I found myself very disappointed with this read. I liked it but also felt indifferent to it many times and because of that, I honestly don't know what to rate this read. 3 stars because the writing was good when it was good or two stars because I feel so letdown and unemotional about it when I was expecting a really good emotional read?
For now, I'm leaving this unrated until I can really ponder about it more and really get a read on my feelings for this. Maybe I'll feel different hours from now, or even weeks. Then again, maybe not.
(edited review to rate)