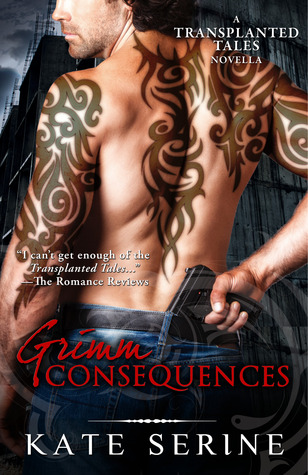 Title: Grimm Consequences
Author: Kate SeRine
Series: Novella in the Transplanted Tales Series (#1.5)
Published By: Kensington (April 24, 2014)
Source: Purchased
Genre: Urban Fantasy
My Rating: 4 Stars!
Book Description:
You reap what you sow...
Saying Nate Grimm has a dark past is an understatement. Fortunately, no one's bothered to look too closely at the Fairytale Management Authority's lead detective and part-time Reaper. And that's the way Nate wants to keep it. For after centuries of torment and loneliness, he's finally found happiness with the hot and hard-charging love of his life, Tess "Red" Little.
Of course, his love for Tess is the reason there's a posse of Reaper judges after him, led by a sadistic bastard acquainted with Nate from once upon a time. Now, Tess will pay the price for Nate's transgressions unless Nate severs his ties to the transplanted Tales--and Tess--forever. His enemy has the advantage in speed, malice and brutality. But the Reapers have underestimated the depth of Nate's love and devotion. And the fury of his wrath.
. .
After meeting Nate in the first book there was no way in heck I was going to pass by the chance to read more about him and hopefully learn more about his past. I fell in love with his character and was fascinated by him. I needed more and oh boy did I get more. I think I very well might be more in love with him now than I was in Red. In fact, move over Red, you have competition.
On a more serious note, this gave me everything I was missing in Red and then some. It answered so many questions, gave me so much more Nate and Red time and really focused on other characters as well, characters I can't wait to learn more about in the next installments. And even though I am sad book two won't be about Nate and Red, I am really hoping we still get glimpses of them because I love them as a couple.
I can see now why this series is getting such great reviews and I for one, want more and will be continuing on with it. It is amazing how much one novella can really add to a storyline and make you fall in love with a series.
*All thoughts and opinions are my own and were not influenced by the author or publisher. I was not compensated for this review.*