Waiting on Wednesday is a weekly meme hosted by Jill at Breaking the Spine. It is a chance to share those new releases we are most looking forward to in the upcoming months.
Believe it or not I had to really think about this one this week. Not because I don't always have books I am excited about reading but because for some reason my memory sucks this week and I couldn't remember what I had already posted about. I think this is a sure sign that I am either A) getting older or B)just not getting enough sleep even though it is summer, my internal clock is still waking me up at the same time, even though I am going to bed way later than I normally do, sooooo, yeah, I am going with that theory B over theory A, because you know it is the nicer option to think about. :P
So this week I am picking a book that actually releases next week. This is a trilogy that I started reading on a whim and was soon caught up in. It isn't a well known series but one I have loved even so. This is also the last and final book in the trilogy and I am eager to see how the author ends it all. I am keeping my fingers crossed it will be a good ending and one that holds true to the rest of the previous installments.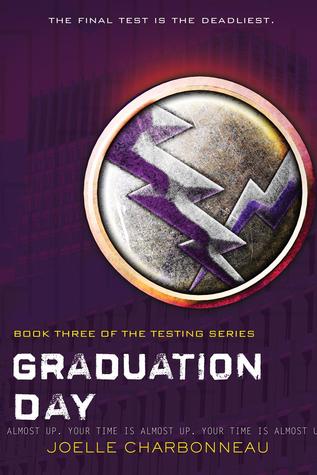 Book Description:
In book three of the Testing series, the United Commonwealth wants to eliminate the rebel alliance fighting to destroy The Testing for good. Cia is ready to lead the charge, but will her lethal classmates follow her into battle?
She wants to put an end to the Testing
In a scarred and brutal future, The United Commonwealth teeters on the brink of all-out civil war. The rebel resistance plots against a government that rules with cruelty and cunning. Gifted student and Testing survivor, Cia Vale, vows to fight.
But she can't do it alone.
This is the chance to lead that Cia has trained for - but who will follow? Plunging through layers of danger and deception, Cia must risk the lives of those she loves--and gamble on the loyalty of her lethal classmates.
The stakes are higher than ever-lives of promise cut short or fulfilled; a future ruled by fear or hope--in the electrifying conclusion to Joelle Charbonneau's epic Testing trilogy. Ready or not…it's Graduation Day.
The Final Test is the Deadliest!
So what about you, what are you most looking forward to this week? I would love to hear about it. :)