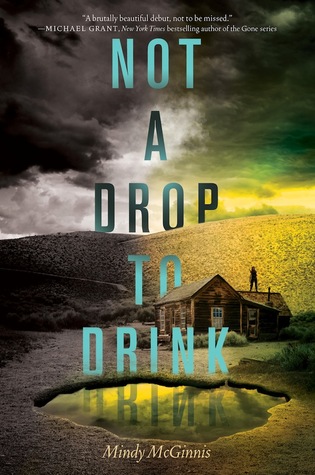 Title: Not A Drop to Drink
Author: Mindy McGinnis
Series: Book One in the Not a Drop To Drink Series
Published By: Katherine Tegen Books (September 24, 2013)
Source: Purchased
Genre: YA Dystopian
My Rating: 4 Stars!
Book Description:
Regret was for people with nothing to defend, people who had no water.
Lynn knows every threat to her pond: drought, a snowless winter, coyotes, and, most importantly, people looking for a drink. She makes sure anyone who comes near the pond leaves thirsty, or doesn't leave at all.
Confident in her own abilities, Lynn has no use for the world beyond the nearby fields and forest. Having a life means dedicating it to survival, and the constant work of gathering wood and water. Having a pond requires the fortitude to protect it, something Mother taught her well during their quiet hours on the rooftop, rifles in hand.
But wisps of smoke on the horizon mean one thing: strangers. The mysterious footprints by the pond, nighttime threats, and gunshots make it all too clear Lynn has exactly what they want, and they won't stop until they get it….
With evocative, spare language and incredible drama, danger, and romance, debut author Mindy McGinnis depicts one girl's journey in a barren world not so different than our own.
I adore dystopians and post-apocalyptic reads so it was no wonder I went into this one very excited and even though I loved the premises of it, I went into this one still a little leery. New authors can be so touch and go and even though it took me a bit to warm up to this one with the third person narrative, it didn't take me long to be completely into it.
This isn't one of those stories that you can pick up and quickly read through it, at least, it wasn't for me. Instead I found myself reading little bits at a time and really thinking about Lynn's world. About the hard complicated struggle she lived through every day. The harshness of a world desolate and in desperate need of water. A place I hope will never be.
It is terrifying to think of our natural resources being gone, of those precious things we take for granted every day like a hot shower or simple glass of clean water from a running tap. For all of it to be gone in the blink of an eye.
This isn't a light and fluffy read, it doesn't even have those feel good warm your heart moments, at least it didn't for me. Instead McGinnis delivers with the harsh realities and blinding horror of what could be. Of how hard life would be if we had to struggle every single day just to survive. How callus and cold and unforgiving would we be? Would we have any humanity left? Would we forgot how to be kind? How to love and how to lend a helping hand? Would we forget how to be compassionate?
This was a wonderful story about one young girl's struggle with how to just be. How to live not just to survive but to feel, to be human. How to face the harsh realities and still move forward. Still have hope and courage and most of all, love.
*All thoughts and opinions are my own and were not influenced by the author or publisher. I was not compensated for this review.*