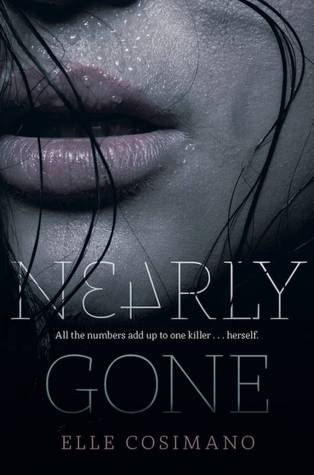 Title: Nearly Gone
Author: Elle Cosimano
Series: Stand Alone
Published By: Kathy Dawson Books (March 25, 2014)
Source: Purchased
Genre: YA Thriller
My Rating: 4 Stars
Book Description:
Bones meets Fringe in a big, dark, scary, brilliantly-plotted urban thriller that will leave you guessing until the very end.
Nearly Boswell knows how to keep secrets. Living in a DC trailer park, she knows better than to share anything that would make her a target with her classmates. Like her mother's job as an exotic dancer, her obsession with the personal ads, and especially the emotions she can taste when she brushes against someone's skin. But when a serial killer goes on a killing spree and starts attacking students, leaving cryptic ads in the newspaper that only Nearly can decipher, she confides in the one person she shouldn't trust: the new guy at school—a reformed bad boy working undercover for the police, doing surveillance. . . on her.
Nearly might be the one person who can put all the clues together, and if she doesn't figure it all out soon—she'll be next.
I love when an author can remind me why I fell in love with a certain genre to begin with and why I love a good mystery.
It's rare in YA that a good thought out, keep you guessing until the end mystery can not only be delivered but signed and sealed as well.
Let's face it, most mysteries in this genre fall flat, aren't well set up and you see them coming from a mile away or they just don't deliver in the end and you are left feeling let down and bereft that things wrapped up too quickly or too conveniently.
I am happy to say that wasn't the case at all in Nearly Gone.
What first drew me to this story was the synopsis claiming and very alluring concept of , Bones meets Fringe it was a pretty irresistible lure for someone like me having watched both tv series and loving them both. How could I resist?
Not only are there paranormal elements weaved into the story line but the protagonist is a nerd. A smart girl that knows what she wants and holds her own against others. A very much Temperance Bennan fell to her, if not genius then close.
The clues left behind each incident really leave you thinking about everything, sometimes even over thinking it. They make you question everything and everyone and will draw you, the reader in and bring you on the edge of your seat wondering what will come next. You can't help but want to know what kind of sick person would play on another in such a way. Would so easily harm others in a game of cat and mouse and have no remorse while doing so. There is an almost eerie, creepy feeling to it all that adds that something extra to keep us on our toes and question everyone around Nearly.
I had fun with this one. The storyline was engaging and sometimes even heart pounding as Nearly raced to get to the victims before the killer could. Throw in some great moments between Nearly and the new guy and you had just enough tender moments and romance to once again leave you light headed and questioning everything.
*All thoughts and opinions are my own and were not influenced by the author or publisher. I was not compensated for this review.*