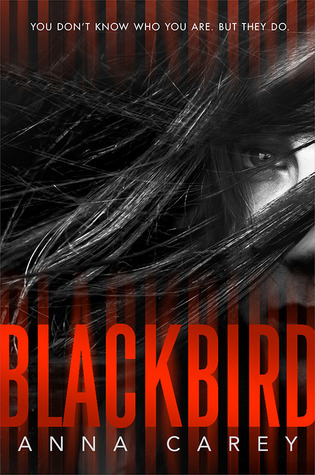 Title: Blackbird
Author: Anna Carey
Series: Book One in the Blackbird Duology
Published By: Harper Teen (September 16, 2014)
Source: ARC Copy Provided by the Publisher
(in exchange for an honest review)
Genre: YA Mystery/Thriller
My Rating: 3 Stars
Book Description:
This twisty, breathless cat-and-mouse thrill ride, told in the second person, follows a girl with amnesia in present-day Los Angeles who is being pursued by mysterious and terrifying assailants.
A girl wakes up on the train tracks, a subway car barreling down on her. With only minutes to react, she hunches down and the train speeds over her. She doesn't remember her name, where she is, or how she got there. She has a tattoo on the inside of her right wrist of a blackbird inside a box, letters and numbers printed just below: FNV02198. There is only one thing she knows for sure: people are trying to kill her.
On the run for her life, she tries to untangle who she is and what happened to the girl she used to be. Nothing and no one are what they appear to be. But the truth is more disturbing than she ever imagined.
The Maze Runner series meets Code Name Verity, Blackbird is relentless and action-packed, filled with surprising twists.
If there is one thing you can count on about me is that I am always on the lookout for something new, something different and something truly stand out. Sometimes, and more often that not, it can get me into trouble but once in awhile instead it can lead me to new adventures and stories and authors that I have might not otherwise have discovered.
While Carey isn't a new discovery, her writing in this book is.
This book starts off in the second person point of view and I am not going to lie, it threw me. Very rarely do you read anything in this perspective, let alone a YA mystery. It took some getting use to and even now, long after finishing it, I can't say whether I ever truly loved the way it was presented but I can say with surety that it did help with the appeal of the story. It added to the mystery and really, I can't fault it for that.
The journey to finding stand out reads can be such a fickle ride can't it?
We get what we are looking for, even what we asked for and still we aren't sure if we like it. If it was done well or done right and we question everything about it.
Are we as readers, bloggers, and reviewers every happy with the unusual and the out of the box new?
In this case, I will have to say that while all elements of the story didn't work, for the most part, most of it did. And while it was strange and took some getting use to, I did enjoy it, strangeness and all.
*All thoughts and opinions are my own and were not influenced by the author or publisher. I was not compensated for this review.*