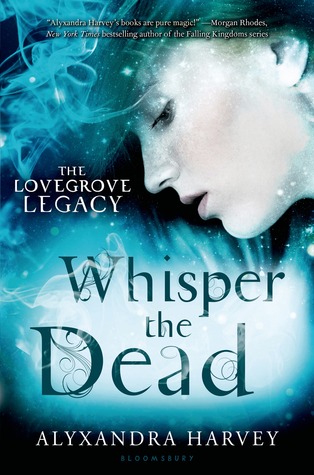 Title: Whisper the Dead
Author: Alyxandra Harvey
Series: Book Two in the Lovegrove Legacy
Published By: Bloomsbury Children's (October 7, 2014)
Source: ARC Copy Provided by the Publisher
(in exchange for an honest review)
Genre: YA Historical Paranormal
My Rating: 4.5 Stars!
Book Description:
Cousins Gretchen, Emma, and Penelope are all dealing with what it means to be a Lovegrove. For Gretchen, it means she often feels like her head is going to explode. As a Whisperer, Gretchen constantly hears the whispers of other witches' spells. And while this does help her to know when one of her own spells is going wrong, the incessant buzzing and pain the whispers cause makes it difficult to use her gift.
But when something evil begins to menace Mayfair, Gretchen must find a way to master her power. Along with her cousins, a madcap named Moira, and the icy yet irresistible Tobias Lawless, Gretchen faces deadly threats and unimaginable loss in the hopes of preventing the terrible Greymalkin Sisters from rising again.
The second book in The Lovegrove Legacy trilogy, Whisper the Dead will leave readers spellbound.
"One for sorrow, two for joy, three for a girl, and four for a boy, five for silver, six for gold, seven for a secret never to be told."
I adore this series and it just keeps getting better and better as it goes. While this is the second book, it by no means suffered from the dreaded second book syndrome, in fact it was quite the opposite for me.
It was even more daring, exciting and action filled and I loved every single minute of it.
While told in multiple point of views, and done quite well I might add, each book is definitely centered around one girl in particular and this time that girl was the feisty Gretchen and I couldn't have been more thrilled.
I loved her after the first book. There is something to be said about a fierce woman who speaks her mind and goes after what she wants, especially in a time when woman were suppose to be anything but mild and meek.
Oh goodness I loved everything about this story. To the darkness that is the Seven Sisters and Greymalkin House to the lies and betrayal and yes, even death of those the girls loved to the heart fluttering romance and almost non stop action and wonder, it didn't take long until I was wrapped right back up into the vivid wonderful world that Harvey created and I didn't want to escape it.
I love Godric, Tobias, Emma, Gretchen, Cedric, Cormac, Theo, Pip, Moira, One-Eyed Joe, Penelope...really this is full of characters, that just after two books, really have become my friends and people I care about.
So many twists I didn't see, so much deceit but also the wonderful bond between the cousins and new acquaintances that makes this story really special and really stand out among others like it, it all why I can't seem to get enough of it.
It has just the right blend of rich historic detail of the times, with the alluring paranormal, a touch of danger and mystery, with a swoon worthy romance, that just make it irresistible.
I devoured this up and when I came to the ending I felt lost and I wanted more. I needed to know how it all ended and sadly, I will have to wait until the next book is out to see how it all comes together. To see how gets their happily ever after and how it all ends.
*All thoughts and opinions are my own and were not influenced by the author or publisher. I was not compensated for this review.*