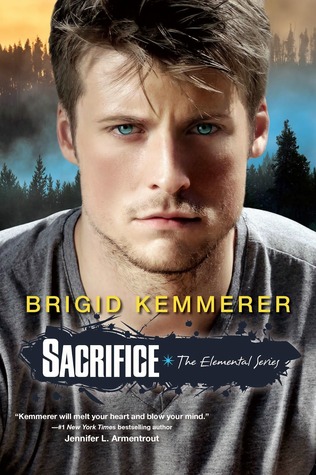 Title: Sacrifice
Author: Brigid Kemmerer
Series: Book Five in the Elemental Series
Published By: Kensington Teen (September 30, 2014)
Source: ARC Copy Provided by the Publisher
(in exchange for an honest review)
Genre: YA Fantasy
My Rating: 3.5 Stars
Book Description:
One misstep and they lose it all. For the last time.
Michael Merrick is used to pressure.
He's the only parent his three brothers have had for years. His power to control Earth could kill someone if he miscalculates. Now an Elemental Guide has it out for his family, and he's all that stands in the way.
His girlfriend, Hannah, gets that. She's got a kid of her own, and a job as a firefighter that could end her life without a moment's notice.
But there are people who have had enough of Michael's defiance, his family's "bad luck." Before he knows it, Michael's enemies have turned into the Merricks' enemies, and they're armed for war.
They're not interested in surrender. But Michael isn't the white flag type anyway. There will be blood on the ground tonight…
I have loved this series and the Merrick boys from the very beginning but Michael has always been my favorite. There is just something about his strong quiet presence throughout the story that has always appealed to me. When I saw that the very last book would be from his prospective I was thrilled.
To say I was anxious and a bit nervous going into this was understandable. We all want those beloved series and characters to get their happily ever after and we want it to be realistic and true to the storyline. WE want al of our time and investment in the books to have been worth it. To mean something in the end. To leave a lasting and yes, happy impression on our minds and hearts forever.
To say I am somewhat in shock still from all that transpired (or lack of transpiring) would be an understatement. Actually I am feeling at a bit of a loss for words, something that let's face it, rarely happens with me.
I love this series. I love the Merricks but the boys lack of appearance and support to Michael in this was, well, it was shocking.
I got everything I wanted from Michael but where was Nick, Chris, and Gabriel throughout the story? Where was their strong presence? This was their story just as much as Michael's and I guess I figured they would play a stronger role in it regardless of who was narrating. I wanted them all present at every moment but of course that was ridiculous and couldn't really happen. I couldn't be in all of their heads every moment of the story.
Was I expecting too much? Were my hopes and dreams set too high?
And honestly they might have been. I wouldn't say this last installment lived up to all the others, but it was good, the ending, was good just not the greatness I have come to expect from Kemmerer.
*All thoughts and opinions are my own and were not influenced by the author or publisher. I was not compensated for this review.*