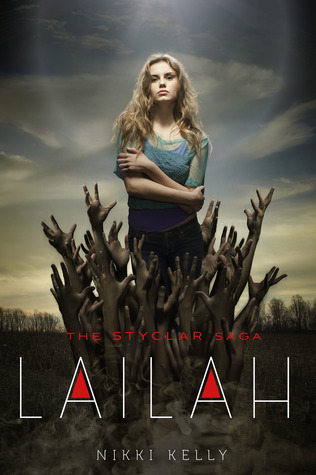 Title: Lailah
Author: Nikki Kelly
Series: Book One in the Styclar Saga
Published By: Feiwel and Friends (October 7, 2014)
Source: ARC Copy Provided by the Publisher
(in exchange for an honest review)
Genre: YA Fantasy
My Rating: 3.5 Stars
Book Description:
The girl knows she's different. She doesn't age. She has no family. She has visions of a past life, but no clear clues as to what she is, or where she comes from. But there is a face in her dreams – a light that breaks through the darkness. She knows his name is Gabriel.
On her way home from work, the girl encounters an injured stranger whose name is Jonah. Soon, she will understand that Jonah belongs to a generation of Vampires that serve even darker forces. Jonah and the few like him, are fighting with help from an unlikely ally – a rogue Angel, named Gabriel.
In the crossfire between good and evil, love and hate, and life and death, the girl learns her name: Lailah. But when the lines between black and white begin to blur, where in the spectrum will she find her place? And with whom?
Gabriel and Jonah both want to protect her. But Lailah will have to fight her own battle to find out who she truly is.
Even though I absolutely adore a good vampire book, it seems good ones have been in shortage. Before you know it, most original ideas have been done and done again and yet again and before you know it, you are left with the same story just different characters and let's face it, after awhile it gets old and boring and it just loses it's appeal.
Which just might be why I loved this as much as I did. A mix of supernatural creatures, ideas, and theories with a whole new twist and plot line. Something dare I say unique and fresh?Yes, I do dare say so.
This wasn't perfect and gasp it has a love triangle but it was one that worked because....well, it just did because it fit the whole good versus evil theme of the story. I don't want to give too much away so that is all I am going to say about that.
It has a few well done overly used tropes and a love triangle that kept me from giving this four stars, but overall, it was original and so very much fun. I was sucked right into the storyline and while some things were easy to see from the start, others weren't. In fact, just when I thought I had things figured out, I found I was completely wrong and had to start all over again, guessing at what was really going on. What was really happening and who Lailah really was and what it meant to the rest of them.
Outstanding characters. Some I truly liked and others I really didn't but all again, very fitting to the story. I am so very excited to see where book two will take us and what more is in store for Lailah, Gabriel, Jonah and all the others.
*All thoughts and opinions are my own and were not influenced by the author or publisher. I was not compensated for this review.*