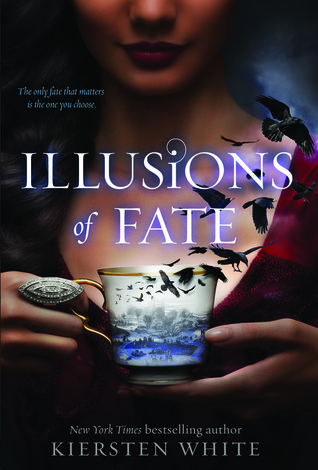 Title: Illusions of Fate
Author: Kiersten White
Series: Stand Alone
Published By: HarperTeen (September 9, 2014)
Source: ARC Copy Provided by the Publisher
(in exchange for an honest review)
Genre: YA Fantasy
My Rating: 4 Stars!
Book Description:
Downton Abbey meets Cassandra Clare in this lush, romantic fantasy from New York Times bestselling author Kiersten White.
"I did my best to keep you from crossing paths with this world. And I shall do my best to protect you now that you have."
Jessamin has been an outcast since she moved from her island home of Melei to the dreary country of Albion. Everything changes when she meets Finn, a gorgeous, enigmatic young lord who introduces her to the secret world of Albion's nobility, a world that has everything Jessamin doesn't—power, money, status…and magic. But Finn has secrets of his own, dangerous secrets that the vicious Lord Downpike will do anything to possess. Unless Jessamin, armed only with her wits and her determination, can stop him.
Kiersten White captured readers' hearts with her New York Times bestselling Paranormalcy trilogy and its effortless mix of magic and real-world teenage humor. She returns to that winning combination of wit, charm, and enchantment in Illusions of Fate, a sparkling and romantic new novel perfect for fans of Cassandra Clare, The Madman's Daughter, and Libba Bray.
I think the description for this one is actually pretty fitting. A rare time when other authors and books being compared are actually quite right.
This was a lot of like Downton Abbey meets Casandra Claire.
I don't know how to express how very much this book took me by surprise. I was all prepared for being thrown into a world that wouldn't make sense or to be trapped in another awful love triangle or any other common tropes that seem to be riddling the YA genre right now and you know what? None of them happened. Not a single one of them. Or at least if they did, I was so enchanted with the writing that I didn't even notice them happening.
I love White's work. She hooked me after her stunning duology that is Mind Games so I really shouldn't have been shocked or surprised that I loved this every bit as much as I did it.
This had the perfect blend of historic with the magical. With secondary characters I loved and adored (Sir Bird, I love you!) ever bit as much as I loved the Finn and Jessa.
And even though not all of the mysteries were uncovered (like where magic came from exactly) it didn't matter because this book was so alluring, so enthralling that anything left undone just added to the appeal of it.
Even though I would absolutely adore a sequel, I don't need one because this ended so nicely and lets face it, it is so refreshing to get a good solid stand alone these days.
White exceeded my expectations with this and I was sad to see it end. I loved the world, the characters and the fast paced plot every bit as much as I have loved all of her other work.
*All thoughts and opinions are my own and were not influenced by the author or publisher. I was not compensated for this review.*