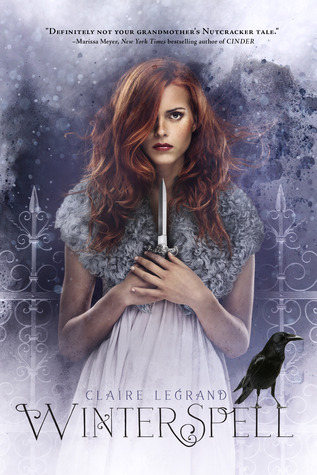 Title: Winterspell
Author: Claire Legrand
Series: Stand Alone (There is a prequel novella)
Published By: Simon and Schuster Books for Young Readers (September 30, 2014)
Source: ARC Copy Provided by the Publisher
(in exchange for an honest review)
Genre: YA Fantasy
My Rating: 3.5 Stars!
Book Description:
The clock chimes midnight, a curse breaks, and a girl meets a prince . . . but what follows is not all sweetness and sugarplums.
New York City, 1899. Clara Stole, the mayor's ever-proper daughter, leads a double life. Since her mother's murder, she has secretly trained in self-defense with the mysterious Drosselmeyer.
Then, on Christmas Eve, disaster strikes.
Her home is destroyed, her father abducted--by beings distinctly not human. To find him, Clara journeys to the war-ravaged land of Cane. Her only companion is the dethroned prince Nicholas, bound by a wicked curse. If they're to survive, Clara has no choice but to trust him, but his haunted eyes burn with secrets--and a need she can't define. With the dangerous, seductive faery queen Anise hunting them, Clara soon realizes she won't leave Cane unscathed--if she leaves at all.
Inspired by The Nutcracker, Winterspell is a dark, timeless fairy tale about love and war, longing and loneliness, and a girl who must learn to live without fear.
Who could resist a story rich in detail as well as plot? A story truly reminiscent of the classic tale of The Nutcracker but with a slightly more sinister tale to tell?
With villains you love to hate and the good guys you will love even more so With just the right touch of magic and fantasy and romance all blended together to create something truly fun and imaginative?
Not I. There is not way I could resist not loving this tale.
This was a great read and everything I described above. The writing was fantastic and the plot very much action driven, all set in a time where the world was constantly changing and anything was possible, even the unknown and the magical.
I love finding those YA treasures that are truly unique and fun as well as dark and gritty.
Legrand did a superb job in blending the retelling with the new and I would most definitely read anything else she has to offer us, in this world or otherwise.
*All thoughts and opinions are my own and were not influenced by the author or publisher. I was not compensated for this review.*