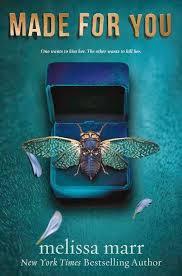 Title: Made For You
Author: Melissa Marr
Series: Stand Alone
Published By: HarperTeen (September 16, 2014)
Source: ARC Copy Provided by the Publisher
(in exchange for an honest review)
Genre: YA Thriller/Mystery
My Rating: 4 Stars!
Book Description:
Bestselling author of the Wicked Lovely books Melissa Marr's first contemporary YA novel is a twisted southern gothic tale of obsession, romance, and murder. A killer is obsessed with Eva Tilling. Can she stop him, or will he claim her?
When Eva Tilling wakes up in the hospital, she's confused—who in her sleepy little North Carolina town could have hit her with their car? And why? But before she can consider the question, she finds that she's awoken with a strange new skill: the ability to foresee people's deaths when they touch her. While she is recovering from the hit-and-run, Nate, an old flame, reappears, and the two must traverse their rocky past as they figure out how to use Eva's power to keep her friends—and themselves—alive. But while Eva and Nate grow closer, the killer grows increasingly frantic in his attempt to get to Eva.
For the first time, New York Times bestselling author Melissa Marr has applied her extraordinary talent to contemporary realism. Chilling twists, unrequited obsession, and high-stakes romance drive this Gothic, racy thriller—a story of small-town oppression and salvation. Melissa's fans, and every YA reader, will find its wild ride enthralling.
Melissa Marr has always been one to take something ordinary and making it truly extraordinary, her latest foray into the mystery thriller department isn't anything less than what we have come to expect from her.
She managed to not only stump her readers with the whole whodunit conspiracy but also with the inner ramblings into the mind of the "Judge" our renowned serial killer and the slight paranormal aspect that adds that little bit of something to the story.
And while the visions were never fully explained, the rest of the story was and it was done nicely and brilliantly.
I truly enjoyed this and would go so far as to say that it is one of the best YA mysteries I have ever encountered. I really hope Marr continues to write in this genre because I really do want more.
*All thoughts and opinions are my own and were not influenced by the author or publisher. I was not compensated for this review.*