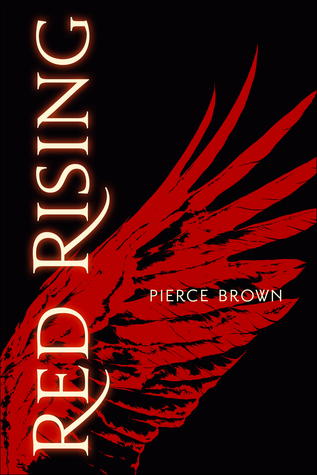 Title: Red Rising
Author: Pierce Brown
Series: Book One in the Red Rising Trilogy
Published By: Del Rey (January 28, 2014)
Source: Copy Provided by the Publisher
(in exchange for an honest review)
Genre: YA Dystopian
My Rating: 5 Stars!
Book Description:
The Earth is dying. Darrow is a Red, a miner in the interior of Mars. His mission is to extract enough precious elements to one day tame the surface of the planet and allow humans to live on it. The Reds are humanity's last hope.
Or so it appears, until the day Darrow discovers it's all a lie. That Mars has been habitable - and inhabited - for generations, by a class of people calling themselves the Golds. A class of people who look down on Darrow and his fellows as slave labour, to be exploited and worked to death without a second thought.
Until the day that Darrow, with the help of a mysterious group of rebels, disguises himself as a Gold and infiltrates their command school, intent on taking down his oppressors from the inside. But the command school is a battlefield - and Darrow isn't the only student with an agenda.
I love a good dystopian, I mean really, who doesn't. But a well written, well plotted out one with characters that make you feel? Well that is every book lovers dream. And I won't lie, I seriously had my doubts going into this that I would like it, let alone love it.
So surprise surprise when I fell in love with it after the very first chapter.
It was captivating and intriguing and everything I love in a well told story.
How could you not feel for the Red's? How could you not feel for Darrow and his loss and struggles to survive and understand all the lies that he thought were truths? To know that his whole world was shattered in a matter of seconds and turned upside down? Quite simply, I don't think you couldn't not feel for the characters in this story. Not feel their hardships and heartaches and willingness to believe what is told to them simply because they don't know any better. Simply because they wanted to believe in the good and ignore the bad.
Gold's, Red's, Pink's, Blue's, Whites, Bronze, honestly, I don't think I would want to be any of them. Nothing is ever what it seems and things are never as good nor as bad as what they are told.
This was so brilliantly done. Just the right amount of fantasy blended with dystopian to truly create something imaginative and original. I simply couldn't get enough of it.
The game, oh the games! Titus,, Cassius, Antonia, Mustang, Lea, Quinn, Sevro, Roque, Pax...gah I couldn't get enough of them and the twists and turns of the whole thing, the brutality, the madness, seriously brilliantly thought out and conceived and entirely captivating. I know, I know, I said that already but it was captivating, right up until the very end.
It was brutal and harsh and so very savage and I loved every stinking minute of it.
I am eager to get my hands on the next book and see where Darrow goes from here. I want to see the Red rise but I also want more for the others too. As the book says, we aren't all bad. Most of us have some goodness inside as well and I want to find all of that goodness in the characters I have come to love and like and see it grow. See it exceeds everyone's expectations and then some.
*All thoughts and opinions are my own and were not influenced by the author or publisher. I was not compensated for this review.*