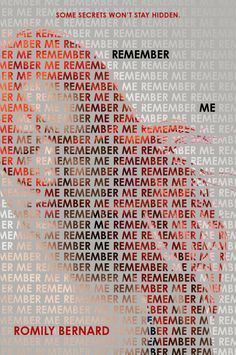 Title: Remember Me
Author: Romily Bernard
Series: Book Two in the Find Me Series
Published By: HarperTeen (September 23, 2014)
Source: ARC Copy Provided by the Publisher
(in exchange for an honest review)
Genre: YA Mystery/Thriller
My Rating: 4 Stars!
Book Description:
Wick had thought her troubles were over.
But she should've known better.
Not only is she embroiled in a new murder case, which starts with a body with "Remember Me" carved into it and doesn't stop there, but she also discovers new evidence surrounding her mother's suicide…which leads her right back to her imprisoned deadbeat dad. And she has to deal with her flirty new hacker friend, Milo, sniffing around—which her boyfriend, Griff, isn't too happy about.
The pressure might be too much as secrets—including Wick's own—climb to the surface.
Remember Me is an edge-of-your-seat thrilling read that'll have readers turning the pages at lightning speed! The paperback of Find Me is on sale simultaneously, and a digital original novella from Romily, featuring Griff, is on sale just a few weeks before!
What do you do when you find an amazing sequel to an amazing first book? You throw a party that's what and you shout it from the rooftops about how amazing said book was.
So this is me, on the roof, screaming my head off.
Yep. I really did like this that much. I loved the thrill ride Find Me was but it was nothing compared to the twisty bumpy make me want to up chuck ride this turned out to be.
I liked Wicket in the first book, but I think I loved her in this book. So strong and brave even when she doesn't think that she is. She isn't just a pretty face that can hold her own in a fight, no, the girl is a downright computer genius. A smart girl that loves fiercely and is always trying to do the right thing even when the right thing isn't so black and white.
This was a fabulous sequel. It isn't often that we get really great second books in trilogies, or even series but this is one of them. One that really shows how much the author has grown as a writer and how much her characters in her stories are growing right along with her.
There were some twists and turns I didn't see coming and didn't even expect and some that I did but all of them just added to the mystery and overall feel of the story.
Once again Bernard created a wonderful cast of characters and an even better suspenseful action packed mystery and I loved every single minute of it.
I can only imagine what is in store for us in book three.
*All thoughts and opinions are my own and were not influenced by the author or publisher. I was not compensated for this review.*