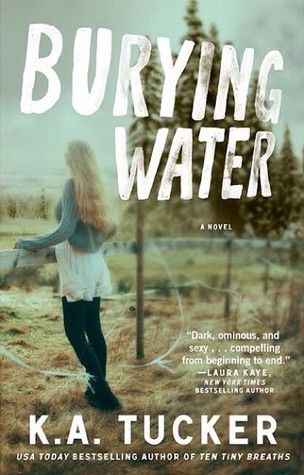 Title: Burying Water
Author: K.A. Tucker
Series: Stand Alone
Published By: Atria (October 7, 2014)
Source: ARC Copy Provided by the Publisher
(in exchange for an honest review)
Genre: NA Contemporary
My Rating: 4 Stars!
Book Description:
Left for dead in the fields of rural Oregon, a young woman defies all odds and survives—but she awakens with no idea who she is, or what happened to her. Refusing to answer to "Jane Doe" for another day, the woman renames herself "Water" for the tiny, hidden marking on her body—the only clue to her past. Taken in by old Ginny Fitzgerald, a crotchety but kind lady living on a nearby horse farm, Water slowly begins building a new life. But as she attempts to piece together the fleeting slivers of her memory, more questions emerge: Who is the next-door neighbor, quietly toiling under the hood of his Barracuda? Why won't Ginny let him step foot on her property? And why does Water feel she recognizes him?
Twenty-four-year-old Jesse Welles doesn't know how long it will be before Water gets her memory back. For her sake, Jesse hopes the answer is never. He knows that she'll stay so much safer—and happier—that way. And that's why, as hard as it is, he needs to keep his distance. Because getting too close could flood her with realities better left buried.
The trouble is, water always seems to find its way to the surface.
This is only my second Tucker book but I can say with complete confidence that it is also my favorite.
I didn't have any expectations whatsoever going into this one other than getting a little escape from the outside world, which I did get but I also got a wonderful story that was every bit as mysterious as it was revealing.
A story that wasn't all rainbows and sunshine but rather gritty and realistic in its complicated simplicity.
One that left me turning the pages and pondering the back and forth narration between Jesse, Water and the then and now.
This kind of back and forth doesn't always work and even less so seamlessly but I have to hand it to Tucker, she pulled it off pretty well. It has just the right amount of predictable and it did the unpredictable. It didn't take me long to be completely wrapped up in the story and invested in the characters outcome.
I truly enjoyed this and it gave me just what I needed to let me get away for a few hours and really enjoy the budding forbidden romance as well as the horrifying mystery of what really happened to Water.
This was very well done and made me a fan of Tucker's.
*All thoughts and opinions are my own and were not influenced by the author or publisher. I was not compensated for this review.*