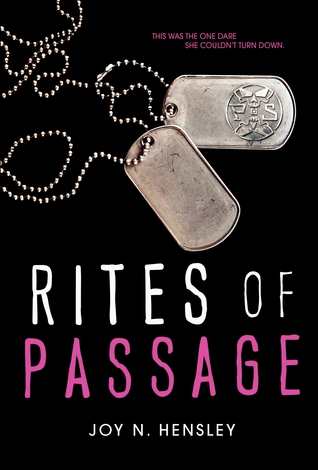 Title: Rites of Passage
Author: Joy N. Hensley
Series: Stand Alone
Published By: HarperTeen (September 9, 2014)
Source: ARC Copy Provided by the Publisher
(in exchange for an honest review)
Genre: YA Contemporary
My Rating: 4.5 Stars!
Book Description:
Sam McKenna's never turned down a dare. And she's not going to start with the last one her brother gave her before he died.
So Sam joins the first-ever class of girls at the prestigious Denmark Military Academy. She's expecting push-ups and long runs, rope climbing and mud-crawling. As a military brat, she can handle an obstacle course just as well as the boys. She's even expecting the hostility she gets from some of the cadets who don't think girls belong there. What she's not expecting is her fiery attraction to her drill sergeant. But dating is strictly forbidden and Sam won't risk her future, or the dare, on something so petty...no matter how much she wants him.
As Sam struggles to prove herself, she discovers that some of the boys don't just want her gone—they will stop at nothing to drive her out. When their petty threats turn to brutal hazing, bleeding into every corner of her life, she realizes they are not acting alone. A decades-old secret society is alive and active… and determined to force her out.
At any cost.
Now time's running short. Sam must decide who she can trust...and choosing the wrong person could have deadly consequences.
I went into this one wanting and if truth be told, expecting, something different and out of the norm.
Thankfully, I wasn't in the least bit disappointed. In fact, I got exactly what I had been hoping for.
Hensley doesn't mess around, we are thrust right into the harsh and strict life that is military school at DMS. From the get go you know things aren't going to be sunshine and rainbows. There will be lots of harsh words, tough times, and misery as well as hard work, bravery and perseverance.
Sam is a character that is instantly likable and you can't help but already be drawn into her toughness and bravery. You know there is more to her life and upbringing as the author hints and foreshadows life with her military strict dad and brothers and a certain dare that haunts the pages as the story slowly unravels.
This was such a breath of fresh air in a market flooded with sameness. The story line was completely unique and original with a plot that is very action driven but not in the normal super hero type of way. Instead the real heroes of the story as those that are willing to fight for what they want out of life and to fight for what is right over what might be popular. To stand strong with their heads held high and to look opposition in the face and defy it.
*All thoughts and opinions are my own and were not influenced by the author or publisher. I was not compensated for this review.*