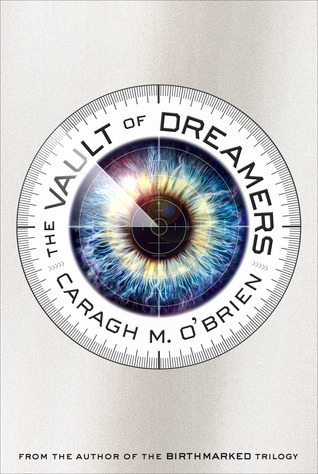 Title: Vault of Dreamers
Author: Caragh M. O'Brien
Series: Book One in the Series
Published By: Roaring Book Press (September 16, 2014)
Source: ARC Copy Provided by the Publisher
(in exchange for an honest review)
Genre: YA Fantasy/Thriller
My Rating: 4 Stars
Book Description:
From the author of the Birthmarked trilogy comes a fast-paced, psychologically thrilling novel about what happens when your dreams are not your own.
The Forge School is the most prestigious arts school in the country. The secret to its success: every moment of the students' lives is televised as part of the insanely popular Forge Show, and the students' schedule includes twelve hours of induced sleep meant to enhance creativity. But when first year student Rosie Sinclair skips her sleeping pill, she discovers there is something off about Forge. In fact, she suspects that there are sinister things going on deep below the reaches of the cameras in the school. What's worse is, she starts to notice that the edges of her consciousness do not feel quite right. And soon, she unearths the ghastly secret that the Forge School is hiding—and what it truly means to dream there.
I am always on the look out for something different and interesting and most of all fun. A book that keeps me guessing and wondering and eagerly turning the pages. O'Brien delivered on all aspects and even went further and made me think, really think about the what ifs.
I don't honestly even know where to begin to describe how unusual, imaginative, and thrilling this book was to read. It kept me on my toes and so eager for more. At the same time I had to stop and think about each passage I read, each new clue or hint of something wrong, that came into the picture. Never quite sure exactly what horrors the school was undertaking.
To say it messed with my mind a little might be an understatement but I loved ever freaking minute of it.
The concept behind the horrors of the unimaginable, the whole design of the school. The poverty of the world that was Rosie's and of course the whole outrageous plot and mystery behind it all, it was just captivating.
My only real hiccup with the whole book was the ending. How in the world could it have ended that way? That couldn't COULDN'T have been it. That couldn't have been how it all came together and ended. Please tell me that wasn't how it all came together and ended because it wasn't good enough. I don't except it and I want more dang it! There better be more.
So here I am, waiting patiently for that book two that I just know is out there, in the works, waiting for us all to be able to pick it up and read it. Right Ms. O'Brien? Right? There is a book two right?
(And yes since having read this, I now know there is a book two planned so whew! I will definitely be eagerly awaiting it's release.)
*All thoughts and opinions are my own and were not influenced by the author or publisher. I was not compensated for this review.*