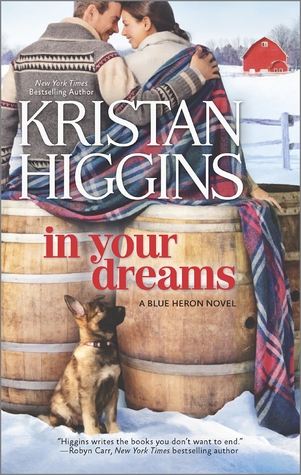 Title: In Your Dreams
Author: Kristan Higgins
Series: Book Four in the Blue Heron Series
Published By: Harlequin (September 30, 2014)
Source: ARC Copy Provided by the Publisher
(in exchange for an honest review)
Genre: Contemporary Romance
My Rating: 4 Stars!
Book Description:
Emmaline Neal needs a date. Just a date—someone to help her get through her ex-fiancé's wedding without losing her mind. But pickings are slim in Manningsport, New York, population 715. In fact, there's really only one option: local heartthrob Jack Holland. Everyone loves Jack, and he won't get the wrong idea…. After all, Jack Holland would never actually be interested in a woman like Em. Especially not with his beautiful ex-wife creeping around, angling to reunite ever since he rescued a group of teens and became a local hero.
But when the wedding festivities take an unexpectedly passionate turn, Em figures it was just one crazy night. Jack is too gorgeous, too popular, to ever end up with her. So why is she the one he can talk to about his deep, dark feelings? If Em is going to get her dream man, she'll have to start by believing in him…
These are the things I can count on getting whenever I pick up one of Higgin's books.
I absolutely adore this series and it feels like I have been waiting an awfully long time to get Jack's story. Who doesn't love Jack? In fact, who doesn't love all the Hollands?
I LOVE the Hollands. Every single one of them but Jack has always been the charming witty brother (prince, heir, you name it) of the bunch and I was so eager to dive into his story. I knew it would be a good one and I wasn't wrong. It was in fact maybe even my most favorite of the Hollands.
Here is what you need to know about Higgin's books, they are all hilarious with real people. People that make mistakes and do crazy insane things and people who aren't perfect, in short, people like you and me and that is what makes them so darn wonderful. They feel tangible. They feel like people you already know and love and if you don't, you sure as heck want to know them.
All of Higgin's stories end with a happily ever after but not all of them cover some very real issues, in this case PTSD. I love that Higgin's tackled something that you rarely read about but something that is all too real none the less. She did it beautifully and realistically and I loved her all the more for it.
This book was...well, I was going to say perfect but no book is perfect but this came pretty close. I loved every single thing about it and I can't wait to see who she will write about next. Maybe a certain twin that has been alluding the pages recently? I would love his story to be next.
*All thoughts and opinions are my own and were not influenced by the author or publisher. I was not compensated for this review.*